Redesign of Legacy Health IT Software
While introducing a user experience design
process to a team
Overview
FEI Systems's Web Infrastructure for Treatment Services (WITS) platform is a modular, web-based application designed to capture client services data in one centralized location. The application is used by provider agencies for behavioral health and human services across the United States.
I was the first dedicated User Experience designer to work with the team. I was tasked with introducing a user-centered approach to the WITS application and a user experience design process to the team.
My Role
As the lead for the re-design of this application, I partnered with business analysts, product support specialists, and software engineers to discuss and brainstorm for the application redesign. I created wireframes, prototypes, and mockups to demonstrate our vision and principles while simultaneously balancing users' goals with business goals.
Challenges
The original application design was driven by a database and, as a result, content (e.g., labels, help text, and error messages) was ambiguous and often contained unnatural, confusing language. Users also faced issues when attempting to retrieve or save information due to the outdated technology. The application itself was highly customizable and needed a flexible solution. Users had never been involved in interviews or application testing.
Goals
We aimed to create software driven by users' tasks and that would improve the user experience; reduce the amount of training users needed; and reduce the number of product support calls that were occurring due to confusing screens and workflows.
Process
I led weekly team meetings that included business analyst, product support, quality assurance, and software engineers. During these meetings, we created personas, workflows, user tasks, and wireframes. All aspects of the application were discussed, including labeling language and inputs on-screen interactions and menus.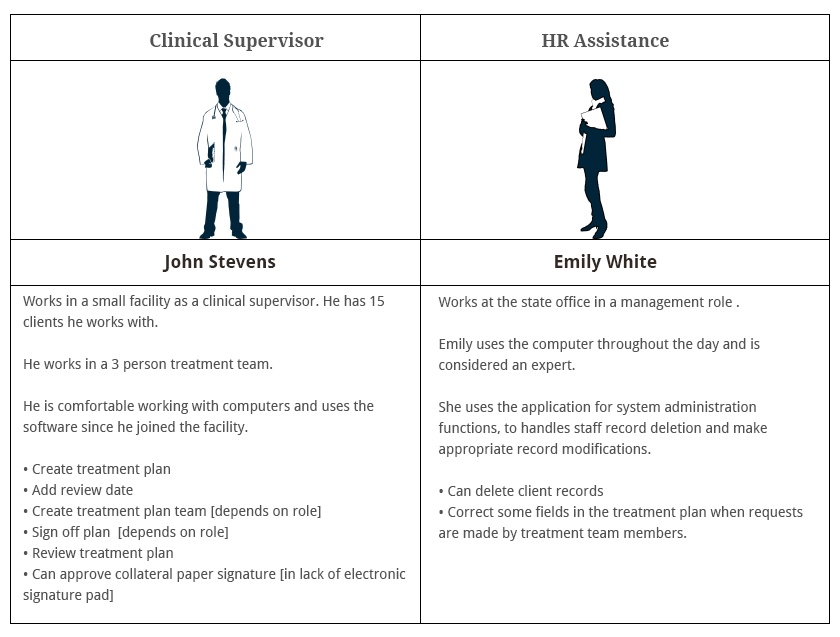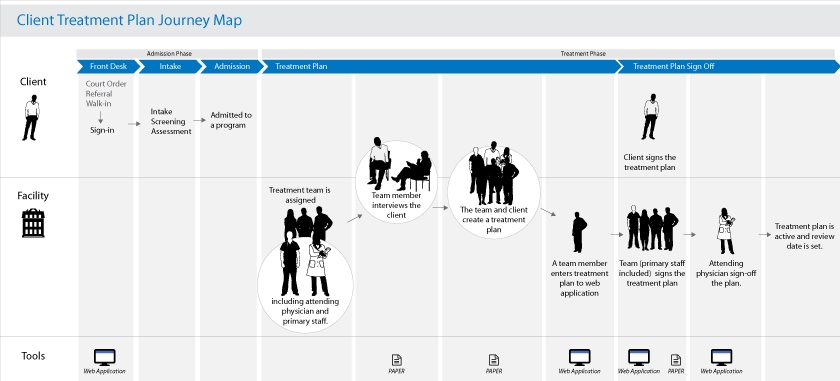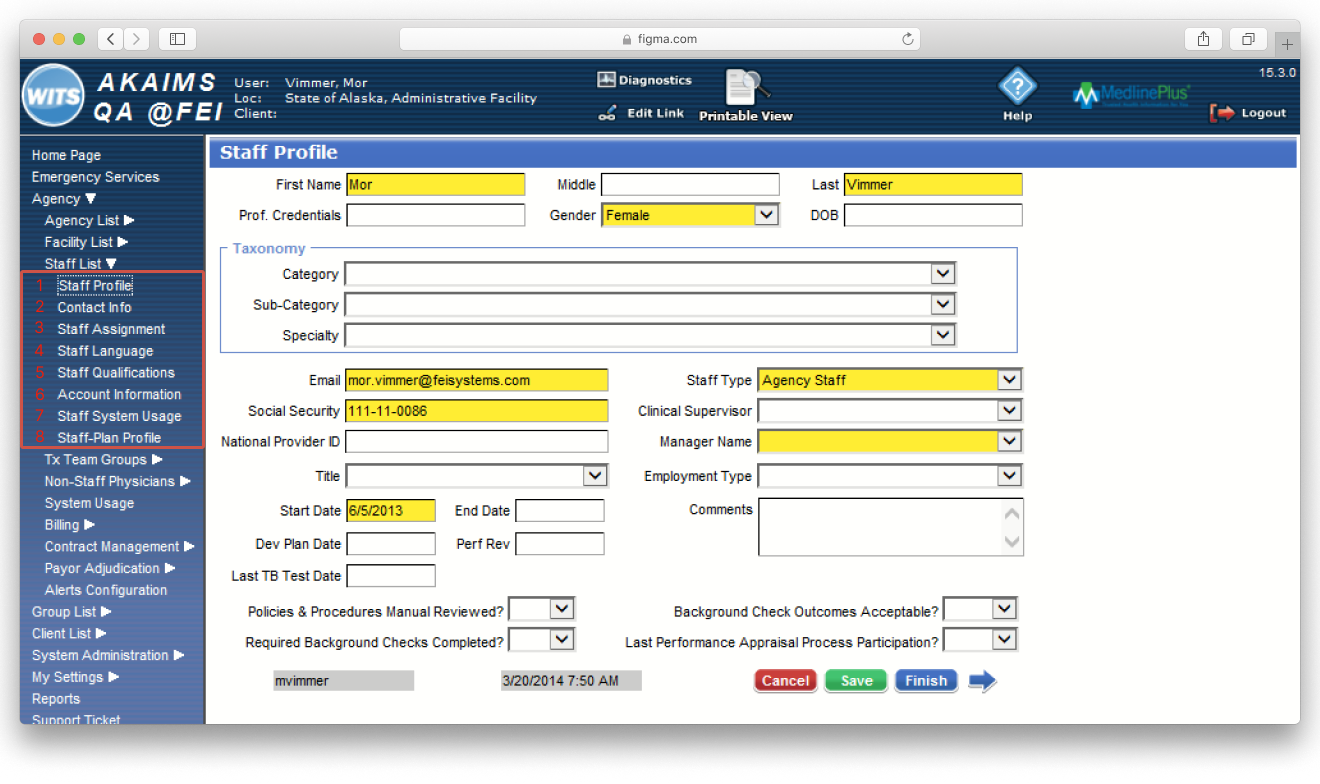 Findings
Through discussions with product support, we discovered that users were keeping the application open (and staying logged in) to avoid losing entered information that could not yet be saved, potentially resulting in a HIPAA violation. For example, in the staff profile section, administrators add new staff members, edit their information, and update their application permissions. To save a new staff member in this legacy system, users had to go through 8 screens.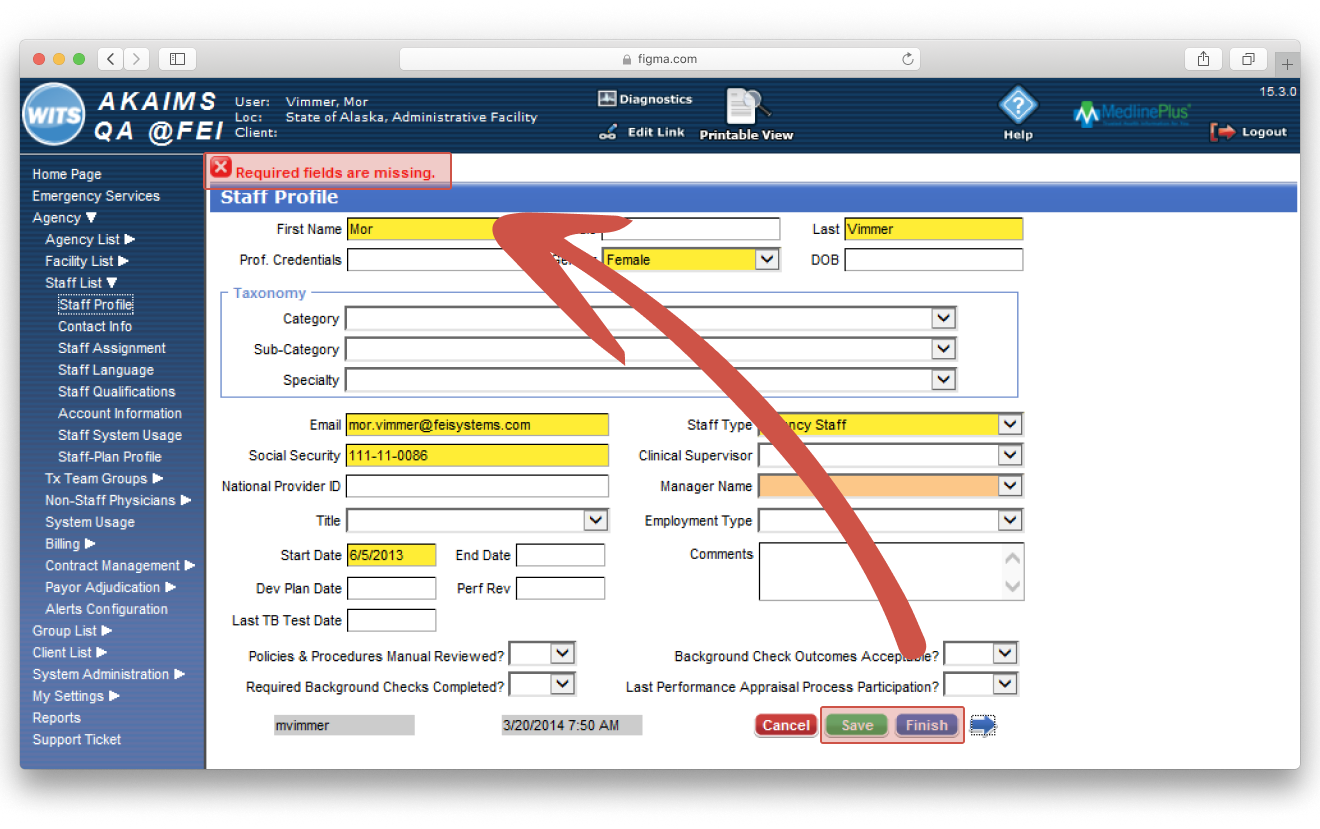 Trying to save the new profile before completing all 9 screens generated an error message, even if all required fields were completed in the current screen.
The result was that users either had to wait until they had a block of time to complete the entire process, or leave the computer unlocked if they had to step away and hope that they could return before the automatic logout.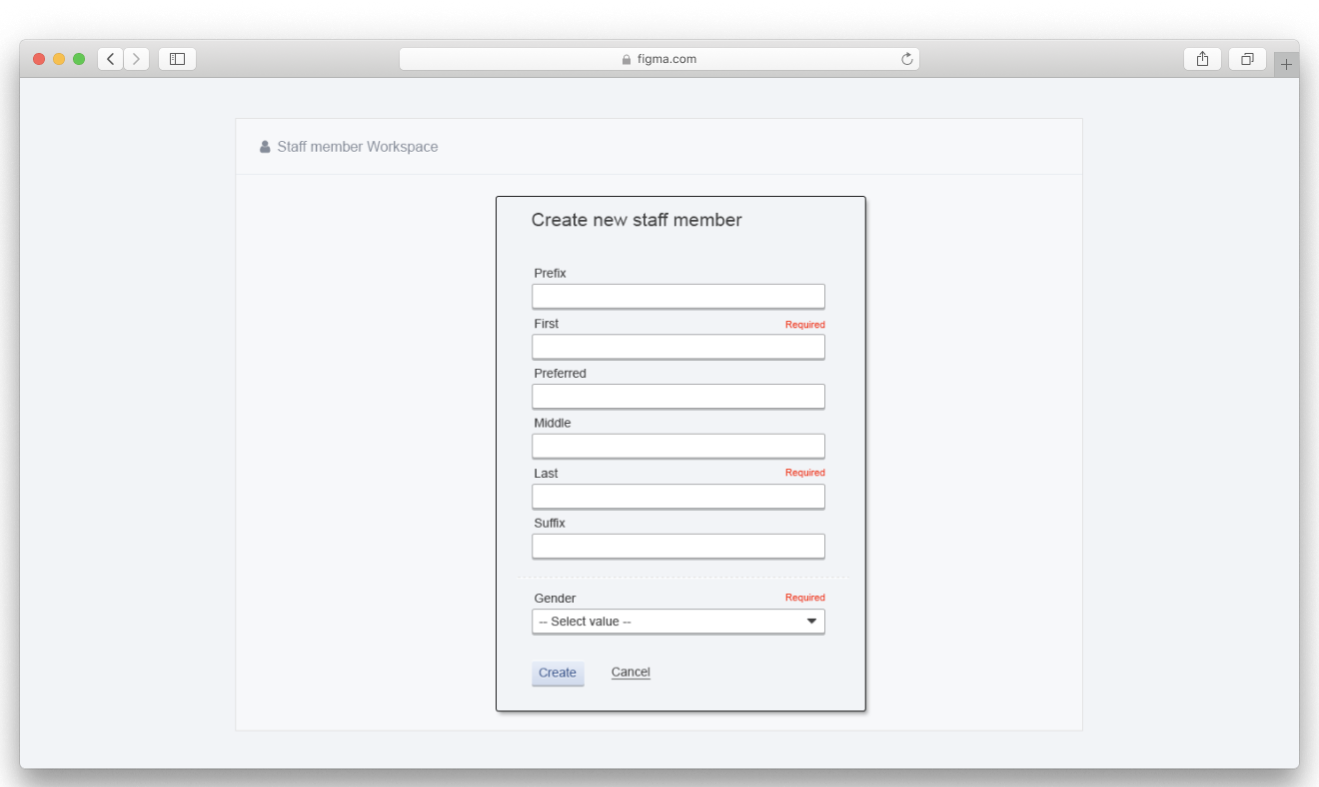 Design Phase
To address this serious issue, we determined it was necessary to make significant software design changes that would allow users to save items to the database in small pieces. Using the information gathered during the research phase, we began the redesign work of the legacy application's Staff Profile section.
In our redesigned section, a user only needs to complete three required fields in order to add a staff member profile to the database:
Once those fields are saved and the staff member profile is created, the user can log off and add more information at a different time. To add information, the user would go through the following steps: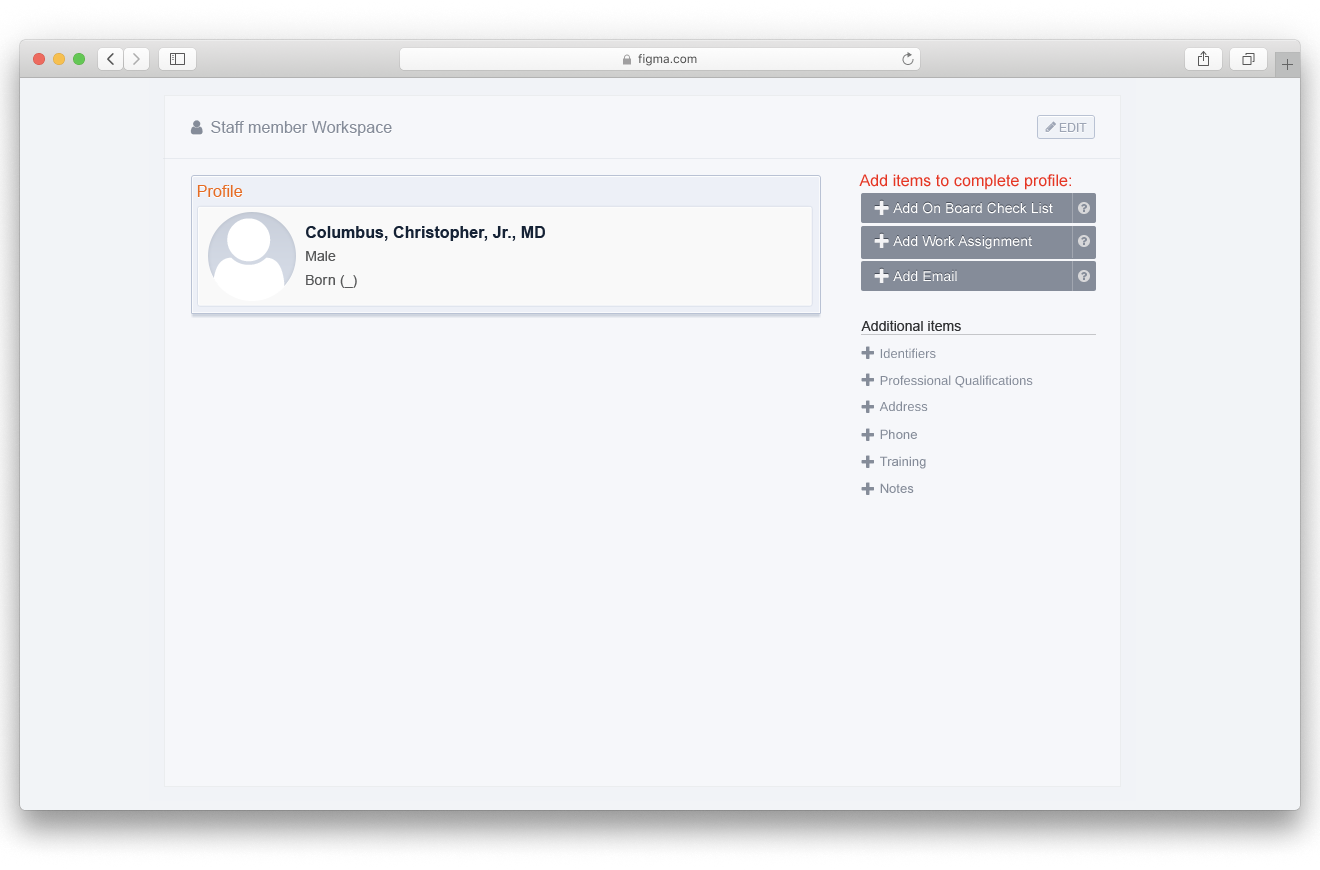 1. User opens the staff member profile screen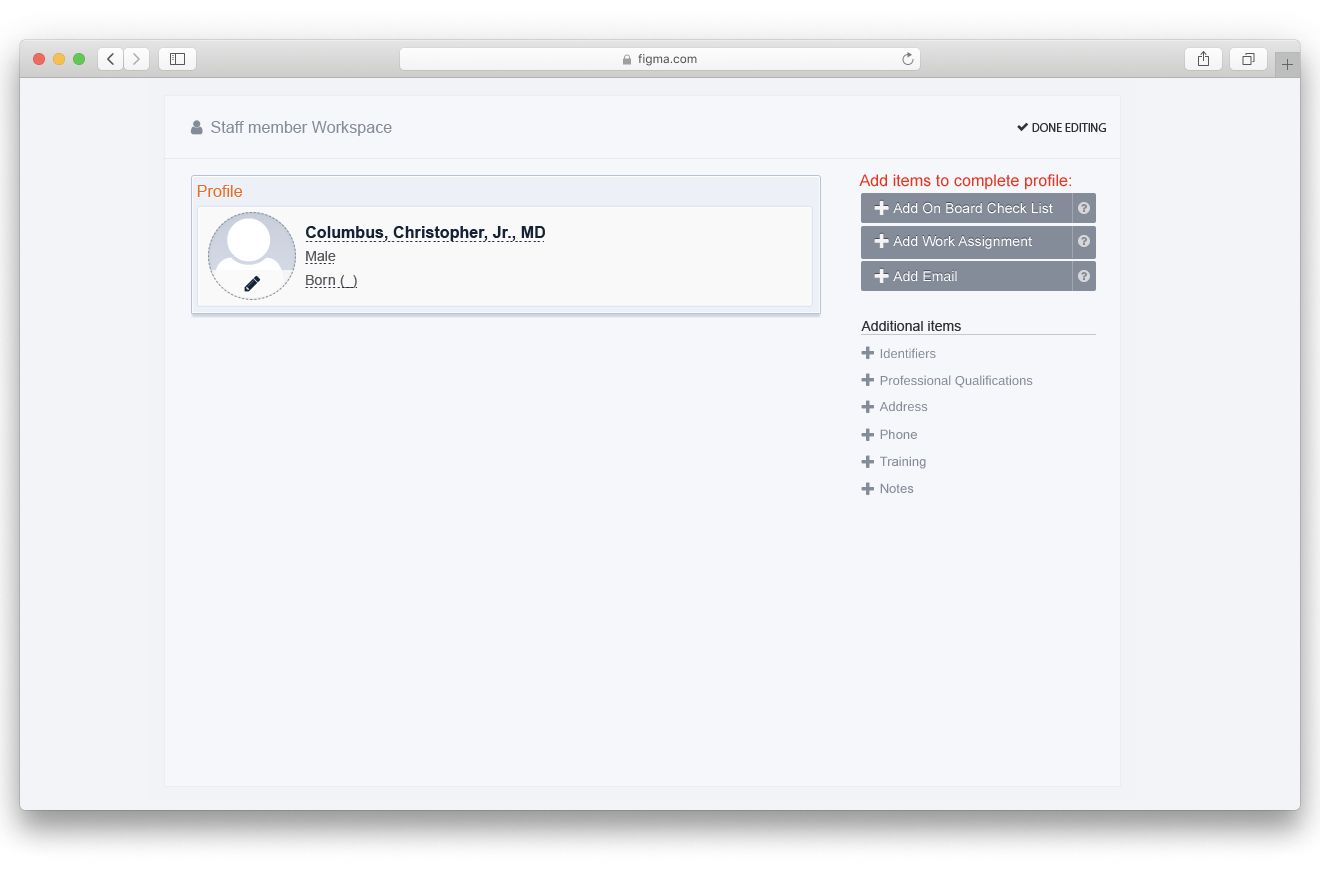 2) User switches to edit mode by using the "Edit" button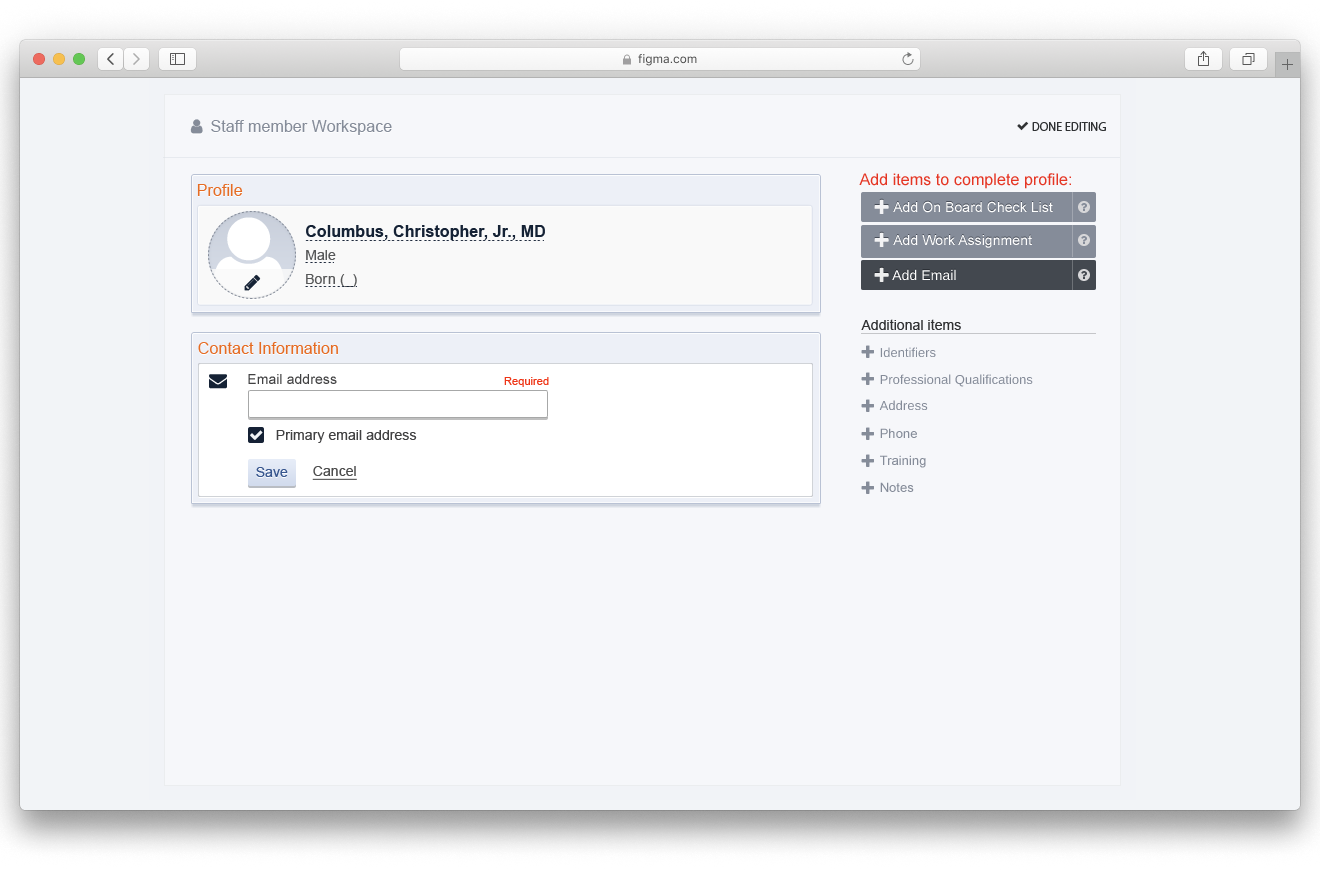 3) User selects the item to add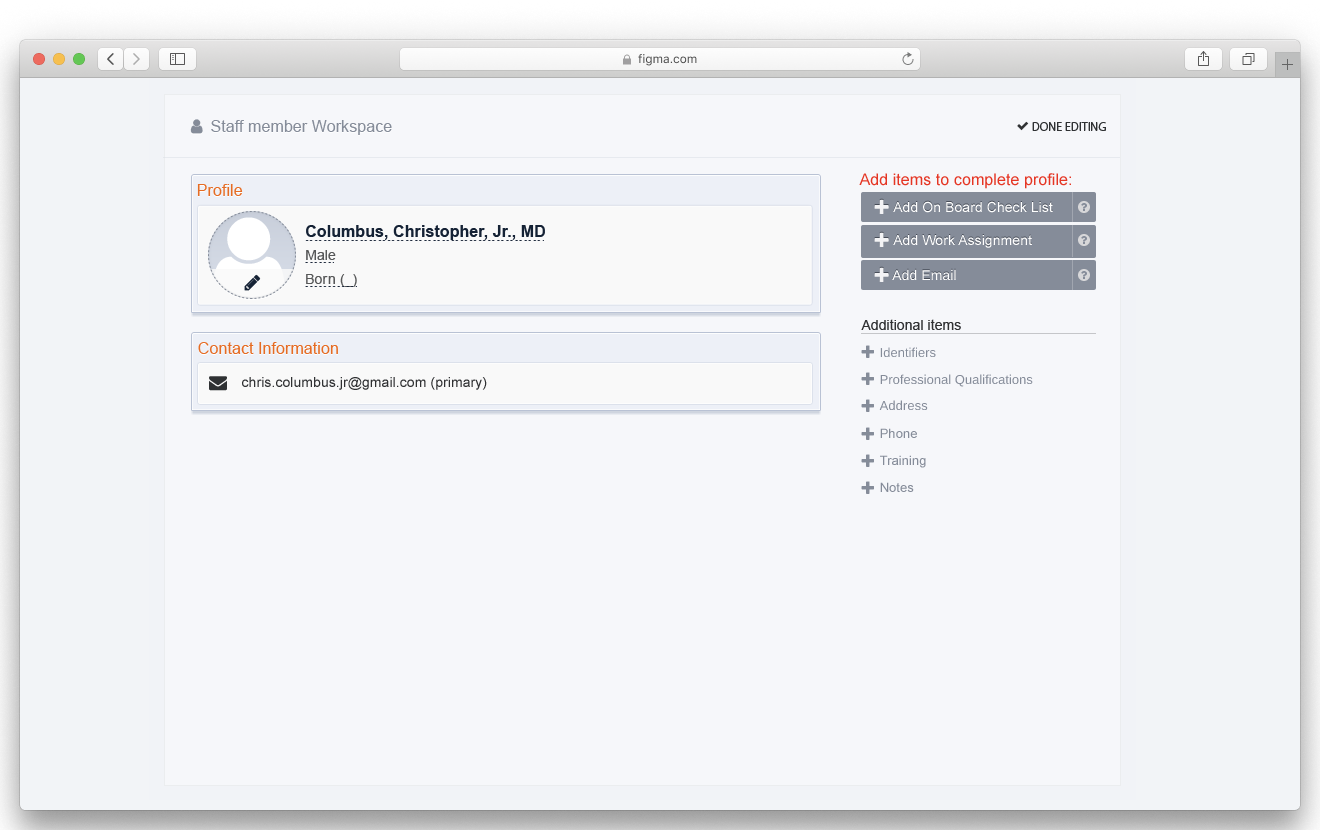 4) User adds and saves the information. The information is added to the database.
User Feedback
We conducted remote usability testing with nine users who routinely add new staff members and received good feedback. Users commented during the sessions on how this new approach would increase productivity and better protect the privacy of information.
Reflection
Prior to this experience, this team had never worked with a user experience designer. Their primary responsibilities had been to apply business goals, not consider how users interacted with the application. However, as we worked together, the team realized how the user experience of the application was confusing and frustrating. The team became progressively excited at the prospect of collaborating on design changes that would potentially improve users' experiences.
This was a very rewarding experience. I not only played a significant role in improving an application's user experience and getting a team focused on this aspect of design, but I also came away with a better understanding of how users interact with health applications and patient health information. This experience emphasized the importance of good user experience within health applications, as the user experience not only affects the application's user but also, ultimately, the patient.