Realigning Teams for Better Productivity
UX Research, Process Design
Overview
NOX Health provides screening-to-treatment solutions for sleep deficiencies. The company develops software for the evaluation, diagnosis, and treatment of sleep-related issues. This includes software that facilitates caring for individuals with sleep disorders and helps people adopt better sleep habits through behavior change.
NOX has experienced significant growth in recent years. The product team--including developers, designers, quality assurance, and product owners--grew from 10 to 25 people in less than two years. During this time, the product team worked on two main products - the SleepCharge application that enables patients to record sleep-related information, and NOX IX, an application for clinicians to order sleep tests and view results.
My Role
I joined NOX Health as the UX Lead. In this role, I have supported the UX Team members; reviewed and provided feedback and guidance on work; and collaborated with product managers, developers, stakeholders, and our care team.
Problem
This fast-growing team lacked processes and guidelines. For each feature, we had to spend time determining the requirements, acceptance criteria, communication expectations, and more. This took away from the time we should have spent designing and developing the feature. In addition, necessary collaboration with other teams was limited and inconsistent.
We needed to establish processes and guidelines that would enable us to scale the team and improve productivity.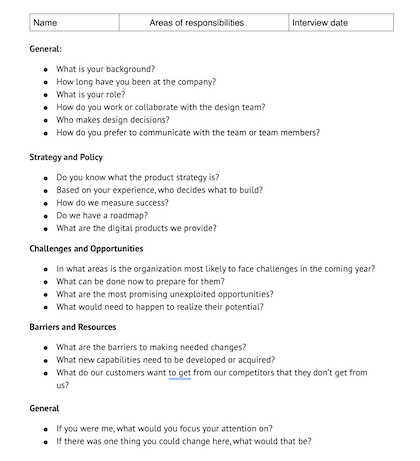 User Research
We established an interview template and set up interview sessions with members of all teams, product managers, and stakeholders.
Our goal was to obtain information about the team members' understanding of the product strategy, who makes decisions, and how success was measured. Another goal was to assess communication effectiveness and identify gaps and areas for improvement.

Results of User Research
Emerging from the interviews were four main themes of concern:
No cohesive product vision;

Lack of clarity around the process for making product decisions, priority setting, and determining what features are built and when;

Unclear responsibility for making decisions;

Frustration regarding a lack of communication between teams for sharing knowledge about various aspects of work, such as when features are to be released and the bugs for QA to address.
The most commonly cited concern was the frustration around communication. Members of the Design Team stated that collaboration with developers occurred when necessary but that most of the work was done within the team, with little feedback from developers, product owners, and other stakeholders. Meanwhile, developers stated that they felt collaboration from the Design Team occurred too late in the process, leaving the developers with little or no say in what got built. Neither the Design Team nor the Development Team knew who made product decisions.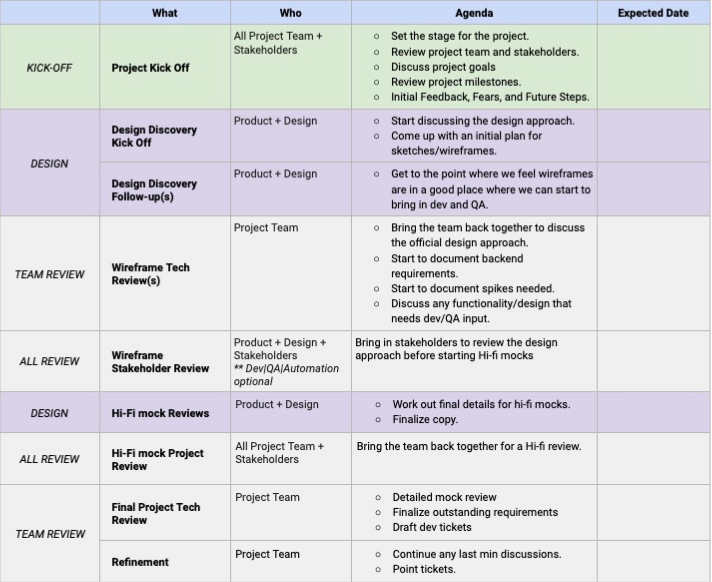 Process Design
We compiled the interview results and reviewed them with our VP-level manager. We established a process in which the members of the Design Team, Development Team, and QA were part of the conversation at each stage. We also clarified the process steps (see image).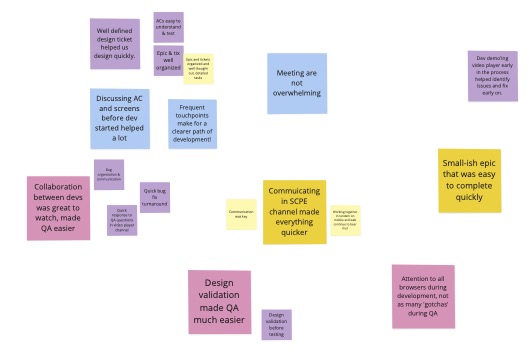 Results
Once this workflow was established, Developers began participating in design discussions, during which they elaborated on what was technically feasible and helped brainstorm different solutions. The Design Team was amazed to see how much this process helped us improve our design, development, and time to production (see image for comments we received).
Lessons Learned
Establishing this process addressed immediate challenges and also made the work and team scalable for future anticipated growth. I was excited to see our research and efforts help the team become more efficient, collaborative, and supportive. This is the essence of user research.